Coinigy Compendium #11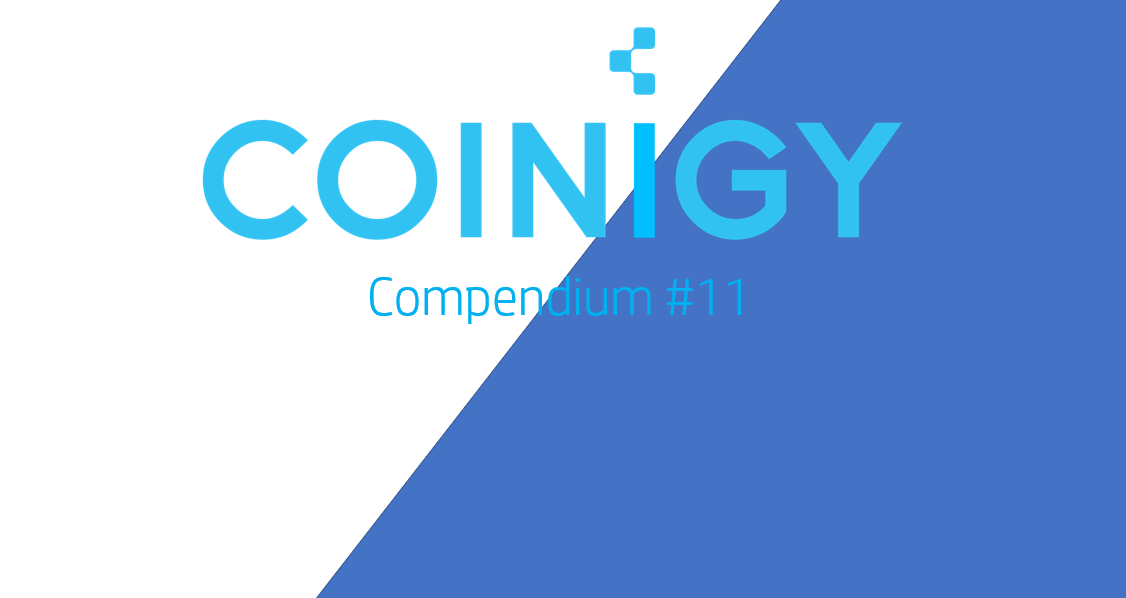 Coinigy Compendium #11 is out! Apart from the product updates and other research pieces we do, the Compendium series aims to highlight key pieces of work from the community as a whole. Along with this, we briefly describe key industry news developments that took place during the past week that community members may have missed. If you have any questions or think we missed something important, feel free to let us know!
Research and Insights
Crypto in 2019: Kleiner Perkins 5 Focus Areas by Monica Desai at Kleiner Perkins
Kleiner Perkins is a well-known venture capital firm both in the traditional VC space and in the cryptoasset space. Here, they take a look back at 2018 and note some of the big trends that dominated the space such as stablecoins, securities regulation enforcement, institutional money waiting on the sidelines, and more. Looking forward, the firm sees a handful of themes playing out for cryptoassets in 2019, including:

Financial infrastructure
Security tokens
Developer tools
Non-fungible tokens (NFTs) and gaming
New business models that undoubtedly arise from the growth of cryptoasset businesses
Electronic Cash, Decentralized Exchange, and the Constitution by Peter Van Valkenburgh at Coin Center
In this in-depth (and lengthy) report, Van Valkenburgh explores how developments in anaonymous digital cash and decentralized exchanges are challenging the expectations consumers have come to know about digital currencies. No longer must users of cryptoassets go through a centralized business, and no longer must a record of a particular transactions be stored somewhere publicly. The author does an eloquent job in exploring potential government responses (that would in many cases be unconstitutional) and historic U.S. case law and how it applies to cryptoassets moving forward.
Industry News Bits
Following Samsung's recent announcement that its flagship Galaxy S10 smartphone would include an integrated cryptoasset wallet, it has been revealed that it will only support Ethereum and Ethereum-based ERC20 tokens at launch with no Bitcoin support.
Stablecoin operator Tether has updated their website to note that USDT may not be backed fully by fiat, but also by 'cash equivalents and, from time to time, may include other assets and receivables from loans made by Tether to third parties'.
A Texas state representative filed a bill that would require users of digital currencies to be forced to provide identification to transact them.
Social trading platform eToro has opened up its services to customers in 32 U.S. states for trading 13 different cryptoassets.
As part of its Xpring arm, cryptoasset company Ripple has launched an initiative to promote the use of blockchain with video games which includes a $100 million fund for developers.
The ruling party of Russia has launched a blockchain-based online voting system.
U.S. law enforcement have arrested the leaders of OneCoin, a multi-billion dollar cryptoasset-based pyramid scheme.
A recent report from the UN estimates that North Korea has stolen over $670 million in fiat and cryptoassets through hacking.
German-based firms Deutsche Boerse and Commerzbank successfully completed a legally-binding repo transaction proof of concept using distributed ledger technology.
Cryptoasset investment and quantitative trading firm LedgerPrime has raised $12 million of institutional capital.
Denver, Colorado announced that it will be piloting blockchain-based mobile voting for municipal elections.
Investment managers Invesco and Elwood Asset Management are launching the Invesco Elwood Global Blockchain UCITS ETF, a blockchain exchange-traded fund (ETF) listed on the London Stock Exchange.
Bitcoin developers have successfully sent the first Lightning Network payment over radio waves between Toronto and San Francisco.
Blockchain journalism platform Civil has relaunched its ICO after a rework of their strategy and model following a failed token sale last year.
Massachusetts has formed a fintech advisory group which will target new developments in fintech, including digital currencies.
Mexico's central bank, Banxico, is issuing a number of fintech regulations that may have a significant impact on the growing cryptoasset space in the country.
Following the end of VeriBlock's testnet, Bitcoin transaction count declined by 42%.
Messaging app operator Kakao raised $90 million in a private coin offering through its crypto unit and plans to hold another round to raise a similar amount.
Emaar Group, the owner of the world's tallest building, the Burj Khalifa, is planning to hold an initial coin offering for a community token.
The U.S. SEC's Finhub will be holding meetups with crypto and fintech communities to engage with groups better and more proactively.
Delaware plans to test a blockchain-based business filing system proof of concept for things like tracking stocks and collateral in real-time.
A new wave of scams involving fraudsters convincing Instagram users to send crypto in exchange for high-end products and then running off with the coins is hitting Sweden hard.
Deutsche Börse, Swisscom, and Sygnum have formed a partnership to develop a digital asset ecosystem including fully compliant market infrastructure.
The operations of two cryptocurrency businesses have been suspended following an investigation by Australian law enforcement into an organized crime syndicate.
The U.S. Treasury has placed sanctions on a bank based out of Moscow for its role in facilitating the launch of Venezuela's Petro cryptocurrency.
Long-awaited blockchain interoperability platform Cosmos has officially gone live.
Cryptoasset exchange Quoine was found by the Singapore International Commerical Court to be liable to repay thousands of BTC to OTC liquidity provider B2C2 after a 2017 transaction was reversed at rate far from market price.
U.S. Republican House leader Kevin McCarthy has stated that the government should explore the use of blockchain technology for increased efficiency and transparency.
Gatecoin, a cryptoasset exchange that was hacked in 2016, has been handed notices stating it must cease operations and begin the liquidation process.