Coinigy Compendium #12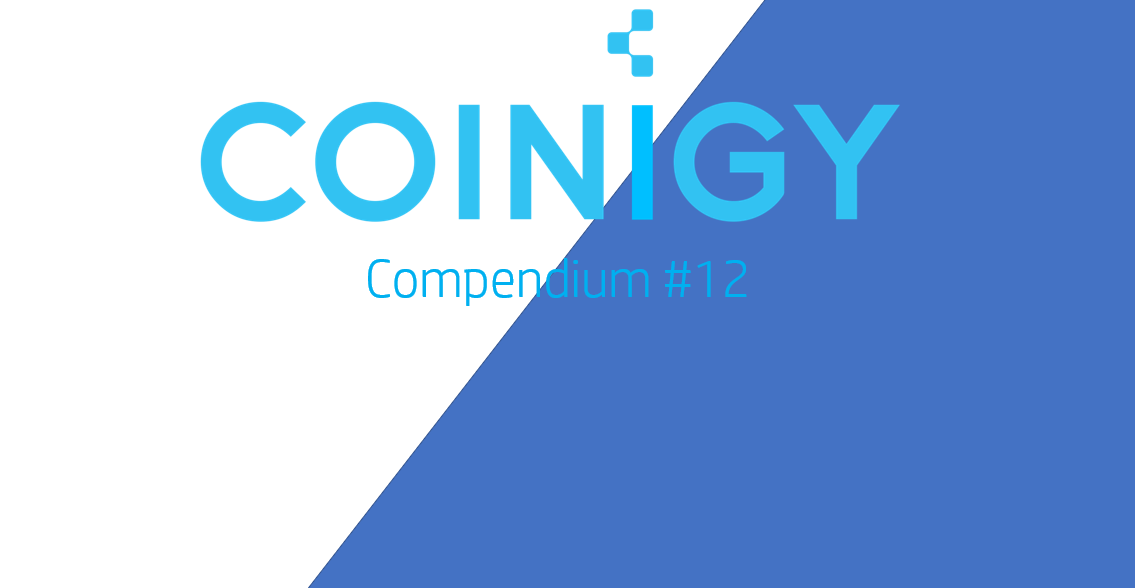 Coinigy Compendium #12 is out! Apart from the product updates and other research pieces we do, the Compendium series aims to highlight key pieces of work from the community as a whole. Along with this, we briefly describe key industry news developments that took place during the past week that community members may have missed. If you have any questions or think we missed something important, feel free to let us know!
Research and Insights
Analysis of Real Bitcoin Trade Volume by Bitwise Asset Management
The team at Bitwise eloquently lay out a more accurate view of the Bitcoin trading space in this lengthy report. Today, the market is plagued by exchanges reporting fake volume, making it appear that there is far more activity and interest in digital assets than there really is. Bitwise concludes 95% of reported Bitcoin trading volume is fake, and that only 10 exchanges actually have over $1 million in trading volume. Further, it shows how the space is far more U.S.-centered, regulated, and transparent than people would expect.
Bitcoin's True Market Dominance by John-Paul Thorbjornsen
Thorbjornsen hypothesizes that the current concept of market dominance in cryptoassets (i.e. relative capitalization of a cryptoasset compared to others) is flawed, primarily because it does not take liquidity into account. Through volume-weighting, Thorbjornsen calculates that Bitcoin's actual market dominance is greater than 80%, a longshot from the ~50% other methods use.
Decentralized Finance by Delphi Digital
Continuing their streak of excellent research into the cryptoasset space, Delphi releases their extensive report on decentralized finance (DeFi). The team explores all things DeFi related with things like decentralized exchanges, lending, derivatives, margin, and more. Further, Delphi does a great job of investigating some of the more well-known projects in the DeFi space such as MakerDAO, Compound, and Dharma.
Valuation Depot by Ikigai
Ever wanted to explore the continually changing world of cryptoasset valuation but did not know where to begin? Through their new initiative Kana and Kattana, Ikigai lays out a ton of great resources to read up on quantitative and qualitative valuation concepts as well as the research being done to help it mature.
Industry News Bits
Payment processor Square will be building out a new initiative called Square Crypto and is hiring full-time Bitcoin contributors.
Popular cryptoasset data provider CoinMarketCap had two of its indices, the CMC Crypto 200 Index (CMC200) and the CMC Crypto 200 ex BTC Index (CMC200EX), go live on Bloomberg Terminals, NASDAQ GIDS, and other outlets.
Hedge fund Numerai has raised $11 million in a new funding round from Placeholder and Paradigm through the sale of its token.
Lightning Labs, the creators of the Lightning Network, has released Loop, a new technology aimed at improving the usability of the Lightning Network.
Cryptoasset exchange Binance has launched a new service in Australia that allows people to buy Bitcoin at over 1,300 stores.
Popular messenger app Kakao's fintech arm Dunamu has released a blockchain service platform for businesses.
Fortune 500 company Avnet, a distributor of electronic components and services, now supports payments in cryptoassets through a partnership with BitPay.
Cryptoasset custody provider BitGo entered the security token space with the announcement that they would be providing custody services for Blockchain Capital's token BCAP.
Blockchain infrastructure startup Bison Trails has raised $5.25 million in new funding from Initialized Capital, Galaxy Digital, and others.
In a lengthy report, former CFTC chairman Timothy Massad had made a call to Congress to regulate the cryptoasset industry better.
Social network platform Facebook is searching for someone to fill a new position as a Lead Commercial Counsel specifically focused on blockchain technology and the company's efforts in the area.
Ecommerce giant Alibaba has partnered with software developer Aerospace Information Co. to promote development in blockchain.
Blockchain-based identity network Concordium has brought on former Danish prime minister and NATO secretary general Anders Fogh Rasmussen as an advisor to the project.
Cryptoasset exchange Bithumb has reportedly laid off 50% of their staff.
Riot Blockchain, the new name for former biotech company Bioptix, plans to launch a cryptoasset exchange dubbed RiotX in Q2 of 2019.
Tendermint Inc., the company behind the Tendermint blockchain platform, has raised $9 million in their Series A from Paradigm, Bain Capital, 1confirmation, and others.
MercadoLibre, a Latin American-based ecommerce giant, has ended their support of cryptoasset listings and ads just days after receiving $750 million in funding from PayPal.