Coinigy Compendium #13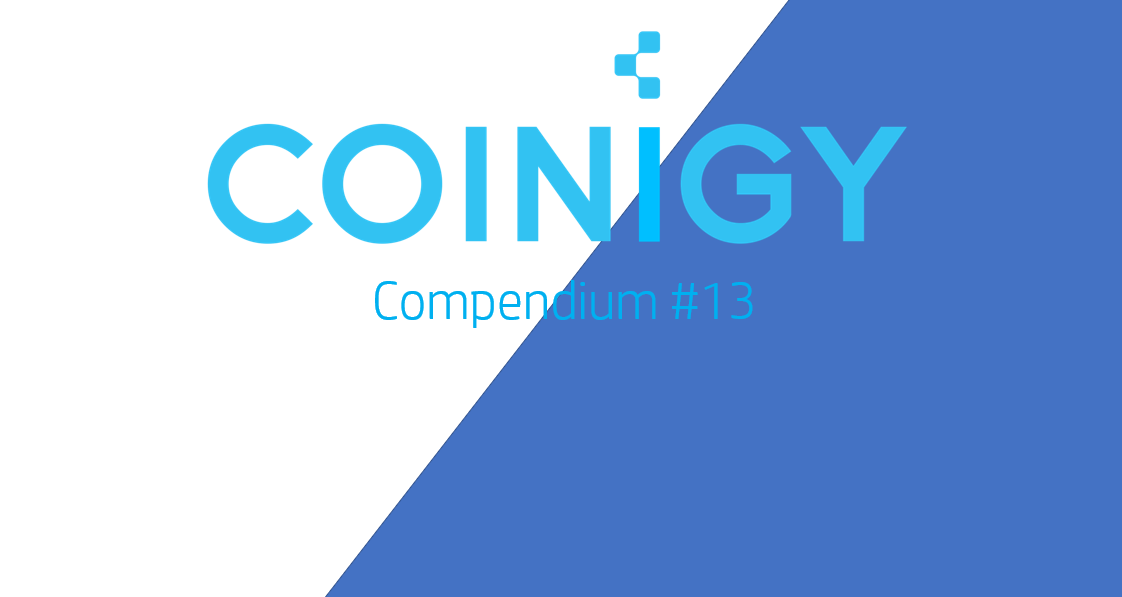 Coinigy Compendium #13 is out! Apart from the product updates and other research pieces we do, the Compendium series aims to highlight key pieces of work from the community as a whole. Along with this, we briefly describe key industry news developments that took place during the past week that community members may have missed. If you have any questions or think we missed something important, feel free to let us know!
Research and Insights
On Fair Token Launches by Gregory Rocco at ConsenSys / Alpine
Exchange Volumes May Be Fake, But Bitcoin's Value Is Real by Michael Casey at CoinDesk
Bitcoin: An insurance policy against the largest monetary and fiscal policy experiment in human history by Travis Kling of Ikigai Asset Management through The Block's Contributor Network
Industry News Bits
The SEC has released its long-awaited guidance on tokens to bring regulatory clarity on what kinds of tokens are classified as securities.
Singapore-based cryptoasset exchange DragonEx announced that it had suffered a security breach that resulted in user funds of an undisclosed amount being stolen.
The SEC has postponed its decision on the acceptance of the Bitwise and VanEck Bitcoin ETF proposals.
Korea-based cryptoasset exchange Bithumb stated that it had suffered a loss of $13 million of user funds, the hack being a suspected insider job.
Popular payment service and operator of Venmo, PayPal, has made its first investment in a cryptoasset startup in joining the Series A round for Cambridge Blockchain.
Bakkt has brought in former IBM and Cisco executive Tom Noonan to be lead its board of directors.
Although the company has since denied the rumors, there is evidence that shows Omise (the parent company of OmiseGO, who launched the OMG token in 2017) has been acquired by Charoen Pokphand Group, the largest private company in Thailand.
Blockchain consulting and services company Vanbex has had its assets frozen by law enforcement in relation to a 2017 ICO in which investors were sold tokens for a platform that the company founders had no intention of developing.
The government of Pakistan has a developed a framework for crypto companies to gain the proper licensing to operate.
Tether, the dollar-pegged and controversial stablecoin, had its 24-hour volume reach an all-time high on March 31st.
The TRON Foundation has said it will work with the Japanese government to make sure TRON users in Japan are not able to access gambling DApps on the network to abide by local regulation.
Estonia-based cryptoasset exchange Bibox has announced a soon-to-launch blockchain project incubator, codenamed 'Bibox Orbit'.
Court-appointed advisor for QuadrigaCX, EY, has suggested that the collapsed cryptoasset exchange should shift from restructuring to bankruptcy proceedings.
Blockchain startup Harmony announced that it has received $18 million in funding from a number of investors including BCA Fund, Lemniscap VC, and others.
Cryptoasset broker and exchange Coinbase confirmed that up to $255 million in cryptoasset stored in its hot wallets are insured.
Cryptoasset trading platform Liquid has received new funding in a Series C from Bitmain and IDG Capital that it claims pushes the company's valuation to over $1 billion.
Crypto startup Celo has raised $30 million in new funding in a round led by Andreessen Horowitz's A16z Crypto and Polychain to support the development of their stablecoins and mobile wallet.
A Canadian court has ruled that a drug dealer must hand over $1.88 million (CAD) in Bitcoin that he had used for illicit transactions on the dark web.
Game developer Lucid Sight recently brought in $6 million in new funding to bring blockchain games to traditional platforms.
Over 100 firms, including the likes of IBM and SWIFT, have formed the International Association of Trusted Blockchain Applications (INATBA), a group focused on the promotion of blockchain technology throughout the EU.