Coinigy Announces V2 Platform Open Beta and Launch of Boards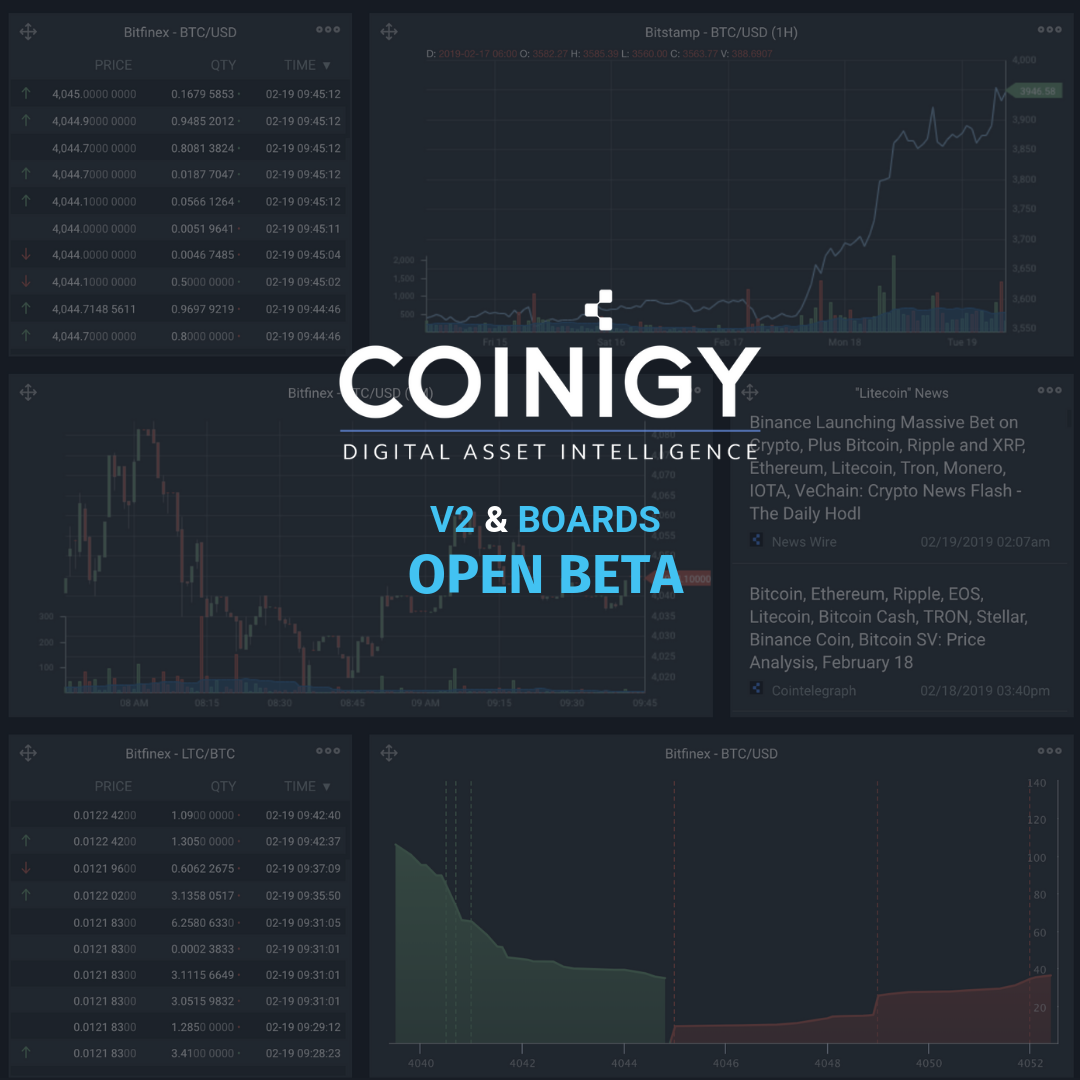 The Coinigy team is happy to announce two major milestones in the platform's development. These updates include the release of Boards, a new tool for cryptoasset investors and traders, as well as the Coinigy 'V2' platform moving to open beta.
V2 of Coinigy offers a number of improvements over the current platform (V1). Our team has worked endlessly to completely rewrite both backend and frontend code, including our charting library integration and connections to all of the exchanges we support.
Over the past several months, we have received an immense amount of valuable feedback from V2 closed beta testers. This has led to the implementation of new customization options, theming tools, market layouts, and more. With how much development has gone into it, we are finally at a place where we are comfortable making it available to all users.
All Coinigy users, including those on Trial, Pro, and API subscription plans, can now directly access the beta by visiting beta.coinigy.com. The V2 beta already has more capabilities and tools compared to V1, so you may want to play around with it and tune it to your liking.
Also with this update comes the launch of Boards, a brand new tool that allows users to create custom views of markets. This can range from different information about a particular token all in one place to in-depth overviews of the entire cryptoasset market. These Boards can then be shared and copied by other Coinigy users to further their own trading experience as well.
Boards is a powerful tool that we have teased in the past. It provides an unparalleled experience for traders of all kinds regardless of their background, activity level, or trading method. Users have been asking about social and multi-chart tools for a long time, and Boards is just one of the many solutions we have in store for the future of the platform.
For a full list of what this Boards update includes, find the release notes here. An article about using Boards can be found in our support portal. To showcase the different kinds of panels available in Boards at its launch, users can import a test board by following this link.
We look forward to all of the great feedback we have been getting to continue to roll in. Please do not hesitate to reach out to us should you have any questions, concerns, or suggestions for V2 and/or Boards.