Balance Tracking for HD Bitcoin Wallets Now Available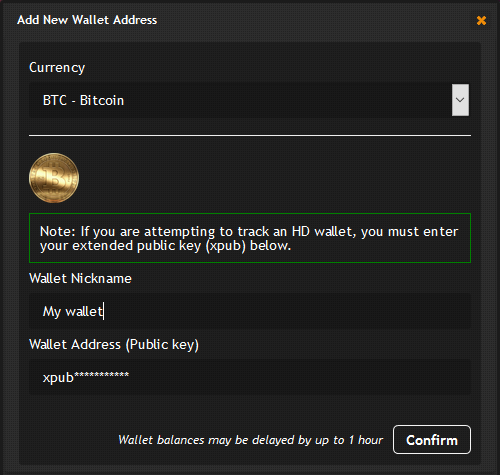 Continuing in our wallet tracking updates, users of hierarchical deterministic (HD) Bitcoin wallets can now track their balances as well. While balance tracking for Bitcoin was already supported, HD wallets posed a problem due to the nature of how they work. That being, users of Electrum, TREZOR, Coinbase Vault, CarbonWallet, and other HD wallets can now add their addresses to Coinigy using its extended public key (xpub) key. To add your HD wallet address:
Visit your accounts page in Coinigy
Click 'Add New Wallet Address' and find 'BTC – Bitcoin' at the top of the currency drop-down menu
Give your wallet a desired nickname and paste it's extended public key (xpub) key in the respective boxes
Click 'Confirm' and you're all set! (note: it can take up to an hour for the balances to be pulled initially, though it rarely takes this long)
If you need help finding said xpub key or have trouble adding it, don't hesitate to reach out to us or your wallet provider for assistance.